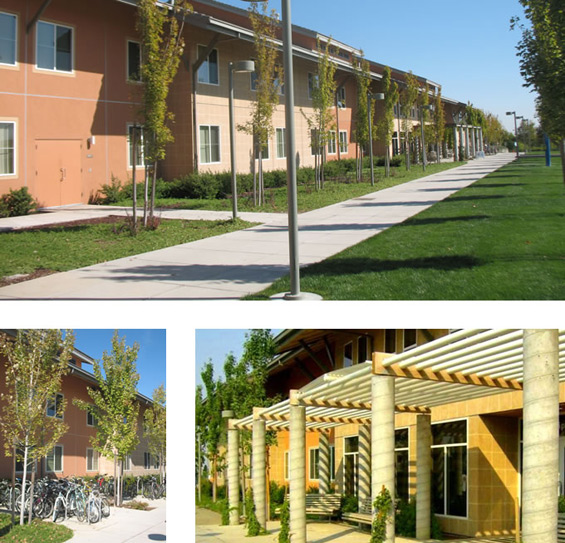 Overview
Sierra Terraces was UC Merced's second campus housing project and includes Tuolumne and Mariposa Halls, dormitory buildings that together house 400 students, primarily freshmen. Dormitory rooms can accommodate up to three students if necessary, making the total potential capacity of the building up to 600 beds. The buildings include lounges, meeting rooms/study spaces, and a kitchen in each building for student use. 
Project Details
Size: 84,500 square feet
Construction Cost: $24 million
Completion Date: August 2007
Awards: LEED-NC Gold
Campus Architects: E. James Smith and Thomas E. Lollini, FAIA
Project Director: Catherine Kniazewycz, AIA
LEED Coordinator: Mark Maxwell
Architect & Engineers: Fisher Friedman Associates, Taylor Engineering, and The Engineering Enterprise
Construction Managers: The Hallmark Group and ProWest Constructors
Sustainability Awards
American Society of Heating, Refrigerating, and Air-Conditioning Engineers: Technology Awards, Energy Savings Dorms (2010)
Project Highlights
The project has surpassed California's Title-24 energy consumption standards by 42% and beats the LEED energy performance baseline by 44%,           achieving 9 points under credit EA 1: Optimize Energy Performance. 

90% of construction waste was diverted from the landfill. 

Building materials had a combined value of 21% recycled content, earning 2 basic points plus a third point under Innovation and Design Credit for       Exemplary Performance. 

49% of selected materials were manufactured regionally, earning one basic point plus an additional point under Innovation and Design Credit for           Exemplary Performance.