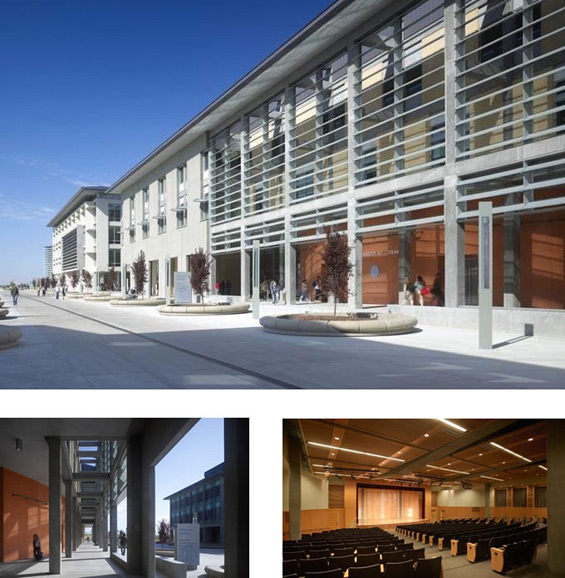 Overview
The LEED Gold certified Classroom and Office Building 1 was the second academic building in the University of California system to achieve a LEED certification.
The three-story building is a structural hybrid. It consists of a steel frame made with recycled metals and concrete exterior walls containing 9 percent coal fly ash. A residue of coal fired power plants, coal fly ash replaces cement as a reinforcing agent in concrete.
Sunshades protect exterior walls that receive significant solar exposure, protecting windows from direct solar infiltration during the hot times of the year while admitting filtered daylight to reduce the need for electric lighting during the day.
The concrete wall mass helps slow heat transfer to the building's interior on hot afternoons, which reduces the need for air conditioning.
At the 2007 UC/CSU/CC Sustainability Conference, the complex received a Best Overall Sustainable Design Award from the Higher Education Energy Efficiency Partnership program. 
Project Details
Size: 92,601 square feet
Construction Cost: $21.6 million
Completion Date: January 2006
Awards: LEED-NC Gold; 2007 UC/CSU/CC Sustainability Conference Best Practice Award for Best Overall Sustainable Design 
Campus Architect: Jim Smith
Project Director: Cynthia Hughes
Project Manager: Gary Knox (Hallmark)
Campus LEED Coordinators: Cynthia Hughes and Mark Maxwell
Architect & Engineers: Thomas Hacker Architects Inc, Taylor Engineering, LLC & The Engineering Enterprise 
Contractor: Swinerton Builders Inc
LEED Consultant: Lynn Simon & Associates 
Sustainability Awards
UC/CSU/CCC Sustainability Best Practices Award: Outstanding Sustainable Design (2007)
Building Highlights
The Classroom and Office Building is the best energy performer on campus, saving 56 percent in energy costs over comparable facilities that meet only California building code requirements. What sets this building apart from the others is the energy-efficient heating, ventilating, and air conditioning (HVAC), consisting of a dual-fan/dual-duct variable air volume (VAV) system which can transfer unwanted heat from one area of the building to another that needs it. Separate cooling and heating ducts allow efficient heating and cooling of air compared to the cooling and reheating of a single air stream that conventional HVAC systems provide.
 
Bicycle parking and convenient changing and shower facilities encourage building occupants and visitors to travel to and on campus without cars.
 
90 percent of construction waste was recycled and diverted from the local landfill. Wood waste was chipped and reused for other products or was composted or burned as energy-generating biomass; concrete waste was used as road base and metal was recycled.
 
Development and implementation of an Indoor Air Quality Plan started during construction. All ducting and HVAC equipment was covered during construction to prevent contamination by dust, dirt, water and debris. Prior to occupancy, the building went through a two week ventilation flush-out to clean contaminates that accumulated during construction.
 

The building's sophisticated HVAC controls allow for a high degree of efficiency in heating, cooling and lighting and provides feedback that enables operators to fine-tune the system for optimum performance.