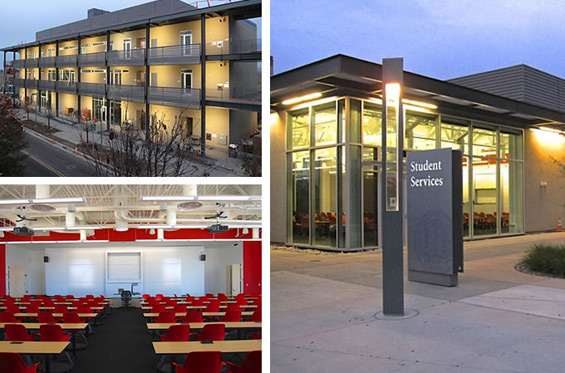 Overview
The Student Services Building is a two building project consisting of a one story pavilion lecture hall and a three story steel frame structure to accommodate critically needed classroom and instructional space. The project is located on a small triangular parcel northeast of the Social Sciences and Management Building at the intersection of Ansel Adams Road and Scholars Lane.   The one story pavilion was completed in Fall 2013 and the three story building was completed in January 2014. The Building is certified as LEED Platinum.
Project Details
Construction Cost: $20 million
Completion Date: Fall 2013 and January 2014
Campus Architect: Thomas Lollini
Project Director: Leon Waller
Architect: CO Architects
Contractor: McCarthy 
Click below to watch a time-lapse video of the Student Services Building being built...