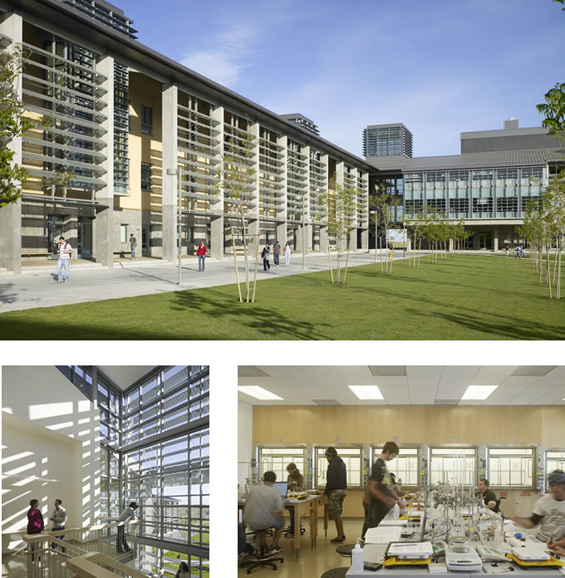 Overview
Science and Engineering 1 provides laboratories, laboratory support space, teaching laboratories and offices for the Schools of Natural Sciences and Engineering.
A typical laboratory building uses far more energy and water per square foot than the typical office building, due primarily to intensive ventilation requirements and the need for tight climate control in support of sensitive research.
Because the requirements of Science and Engineering 1 differed so dramatically from other campus buildings, UC Merced saw a clear need for sustainability initiatives, including LEED.
Science and Engineering 1 earned an Honorable Mention in the new construction category at the Go Beyond Awards, which honor individuals, organizations, projects and laboratory manufacturers that "go beyond" the status quo to minimize the environmental impacts of laboratory and other high-tech facilities and lab equipment. R&D Magazine announced the award in their November 2008 issue.  
The Founding Chancellor, Carol Tomlinson-Keasey, best articulated the shared vision for the new UC Merced campus: buildings that provide ease of access for students and the local community; inspiring spaces for interdisciplinary collaboration and research; a clear model for sustainable growth; and an example of environmental stewardship. We amplify her vision by conceiving a building elegant in form, robust in material, responsive to campus planning principles and the local environment, and evocative of a sense of place. Because it is difficult to predict how scientific research and instruction will evolve, the building is both rugged and flexible.
The building program includes wet and dry labs for instruction and research, an open academic computing center, a sixty-person seminar room, faculty and divisional offices, interaction space, and a small vertebrate vivarium.
The L-shaped building defines two sides of the Quad with a grand, three-story arcade, which welcomes students entering from the main campus pathways, while framing views to the campus. Its fritted glass sunshades overlay the structure with a delicate, horizontal filigree and provide an outdoor space where the temperature is several degrees cooler than in the sunlight; the windows of the adjacent spaces open onto this shaded space. A bosque of trees that, once mature, will form a dense canopy overhead, provides further shade in summer and lets the sun wash the building facades when the trees lose their leaves in the winter.
All class labs and teaching spaces are located on the ground floor, supported by a central corridor but opening directly to the exterior. The frequent changing of class labs concentrates activity within the arcade. Glass enclosed stairs to the upper level faculty offices and research spaces overlook the arcade and the Quad, fostering casual commingling of researchers and students and cross-disciplinary interaction among the researchers themselves. These stairs connect the two research floors at several points along its length, allowing for greater connectivity between floors and providing light-filled gathering spaces on each floor.
The arcade and its sunshades significantly reduce the building's cooling load. The building sought LEED Silver Certification, but achieved Gold. It exceeds the energy requirements of California Title 24 by 30%. The project also meets an additional campus-wide target of a 20% reduction in energy use beyond similar university buildings.
Concrete was chosen as a structural material for its superior vibration performance for scientific procedures and its ability to function as a finish material and stand up to the rigors of campus life. A warm, yellow ocher dash coat of plaster sits above the concrete base and harkens to the rolling golden landscape that surrounds the campus in arid summer and fall months. Shaped roofs, reminiscent of the passively cooled agricultural buildings of the region, reduce the visual impact of mechanical penthouses and extend as eaves that protect the building and ground it to the landscape and provide usable covered space.
Project Details
Size: 174,105 square feet
Construction Cost: $54.9 million
Completion Date: February 2006
Awards: LEED-NC Gold; 2009 UC/CSU/CC Sustainability Conference; Best Practice Award 
"Honorable Mention" for Best Overall Sustainable Design 
Campus Architect: Jim Smith
Project Director: Steve Rabedeaux
Hallmark Project Manager: Gary Knox
Campus LEED Coordinators: Cynthia Hughes and Mark Maxwell
Architect & Engineers: EHDD Architects  & Rutherford and Chekene
Contractor: Flintco Inc.
LEED Consultant: Lynn Simon & Associates
Design Awards
American Institute of Architects, San Francisco Chapter: Merit Award, Excellence in Architecture (2010)
Sustainability Awards
International Institute for Sustainable Laboratories: Go Beyond Award, New Construction (2008)
UC/CSU/CCC Sustainability Best Practices Award: Outstanding Sustainable Design (2009)
Building Highlights
The Science and Engineering Building achieves water savings of 44 percent over a comparable building through the use of automated faucets, low flow laboratory fixtures, low flow toilets and waterless urinals.
 
93 percent of wood in the building comes from sources certified as responsibly-managed forests.
 
Building materials contain 48 percent recycled content, earning an extra LEED point for exemplary performance.
 
43 percent of the project's building materials were manufactured regionally and earned an extra LEED point in exemplary performance.
 

The building's massive concrete structure helps temper Merced's hot summer climate, delaying heat transfer on hot afternoons from the exterior until night, when temperatures are cooler. This helps with the building's overall energy performance by reducing the need for cooling on hot days.


 
70 percent of construction waste was recycled and diverted from the local landfill. Wood waste was chipped and reused for other products or was composted or burned as energy-generating biomass. Concrete waste was used as road base locally and metal was recycled.
 

Exterior sun shades on windows and insulated low-e glass plank glazing reduce heat gain inside the building while providing excellent natural light to reduce electricity use.