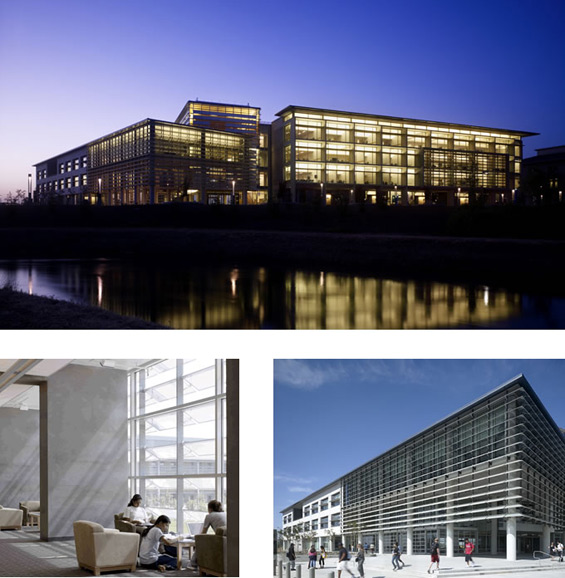 Overview
The Leo and Dottie Kolligian Library consists of two concrete and glass wings housing the library and meeting rooms in the four-story east wing, and administrative offices and student services space in the three-story west wing. The two wings are joined by a four-story "lantern" space that contains large public gathering spaces on all floors. Sun-shaded windows provide panoramic views of the campus landscape. The LEED Gold building opened in 2005 and is a major hub of campus life.
Project Details
Construction Cost: $38 million
Completion Date: 2005
Campus Architect: Jim Smith
Project Director: Richard Schwarz
Campus LEED Coordinators: Cynthia Hughes and Mark Maxwell
Architect: Skidmore Owings & Merrill, LLP
Engineer: ARUP
Contractor: Swinerton Builders, Inc.
LEED Consultant: Lynn Simon & Associates
Photography: Tim Griffith
Design Awards
American Institute of Architects, California Council: Award of Merit, Savings by Design (2007)
American Institute of Architects, Sierra Valley: Design Award, Excellence in Architecture (2011)
The Chicago Athenaeum Museum of architecture and Design: Green Good Design Award (2009)
Sustainability Awards
UC/CSU/CCC Sustainability Best Practices Award: Overall Sustainable Design (2008)
Building Features 
UC Merced has set ambitious goals for a zero net energy and climate-neutral and climate-neutral campus by 2020. UC Merced is pursuing these goals with a heavy emphasis on energy efficiency in new building design. The Kolligian Library performs exceptionally, saving 51 percent in energy costs over comparable buildings that meet only California building code standards.
 
The building achieves 42 percent lower water consumption than comparable buildings through the use of automated faucets, low flow toilets and waterless urinals.
 
Carpet in the building contains 37 percent recycled content, including plastic beverage bottles and carpet. Ceiling tiles contain 66 percent recycled content that includes phone books and newspapers.
 
28 percent of the materials for the project were manufactured regionally, saving significant transportation energy costs and earning an extra LEED point for exemplary performance in this category.
 
The roof is made up of highly solar reflective "cool roof" material, reducing the heat island effect on the surrounding campus by reflecting – rather than concentrating and collecting – unwanted heat.
 
Carbon dioxide monitoring throughout the building controls ventilation, increasing fresh air when building occupants are present in a space and reducing air flow to save energy in unoccupied spaces.
 

The building's heating, ventilating, air conditioning (HVAC) and lighting systems have sophisticated controls to monitor and modulate energy use, and also provide a rich source of information for evaluating building performance and potential additional energy use reduction.