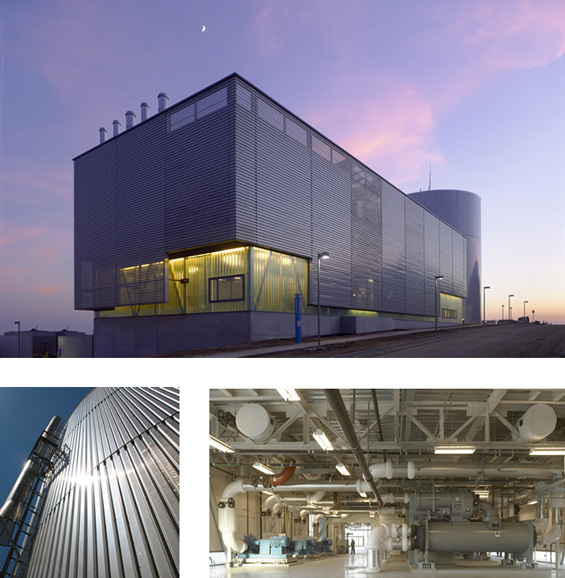 Overview
The Central Plant and the Telecommunications Complex provides heating, cooling, electricity, hot water and steam to the campus and eventually will serve up to 2 million square feet of campus buildings. It is the first energy plant in the nation to achieve LEED Gold. The Telecommunications Building serves the entire campus with telephone, internet, data processing and emergency dispatch communications.
Aside from using 26 percent less energy than allowed by California's Title 24 Building Code and achieving LEED Gold status itself, the Central Plant plays a starring role in the ability of all UC Merced campus buildings to be highly energy efficient. It provides high-efficiency chilled water for building cooling and centralized campuswide controls for building heating, cooling, ventilation and lighting. The 90-foot tall Thermal Energy Storage Tank (TES) is crucial to energy and cost savings by cooling chilled water for air conditioning at night, when electricity costs to run the chillers are half the daytime rate. In addition to saving costs, running the chillers at night reduces demands on California's electrical generating capacity at peak times during the day, which in turn reduces the need to build new power plants.
In 2007, the complex received a National Honor Award for Design from the American Institute of Architects for its innovative and sustainable design and aesthetic excellence. In the same year, at the annual UC/CSU/CC Sustainability Conference, the complex received a Best Overall Sustainable Design Award from the Higher Education Energy Efficiency Partnership program.
Project Details
Construction Cost: $27 million
Completion Date: August 2005
Awards: LEED-NC Gold; 2007 Honor Award for Architecture: American Institute of Architects
2007 UC/ CSU/CC Sustainability Conference Best Practice Award for Best Overall Sustainable Design
Campus Architect: Jim Smith
Hallmark Project Manager: Mark McIntire
Campus LEED Coordinators: Cynthia Hughes and Mark Maxwell
Architect & Engineers: Skidmore Owings & Merrill, LLP; ARUP
Contractor: Swinerton Builders Inc.
LEED Consultant: Lynn Simon & Associates
Design Awards
American Institute of Architects, National: Honor Award, Excellence in Architecture (2006)
American Institute of Architects, California Council: Honor Award, Excellence in Architecture (2006)
American Institute of Architects, San Francisco Chapter: Honor Award, Excellence in Architecture (2006)
American Institute of Architects, Sierra Valley: Design Award, Excellence in Architecture (2011)
The Chicago Athenaeum Museum of Architecture and Design: Honor Award (2007)
Sustainability Awards
Structural Engineers Association of Northern California: Award of Merit, Sustainable Design (2007)
Sustainable Buildings Industry Council: Beyond Green High Performance Building Award (2007)
The Chicago Athenaeum Museum of Architecture and Design: Green Good Design Award (2009)
UC/CSU/CCC Sustainability Best Practices Award: Overall Sustainable Design (2007)
Building Highlights
Light, reflective "cool roofs" reduce heat gain inside the buildings and reduce the "heat island effect" outside by reflecting rather than concentrating and collecting unwanted heat.

Insulating, low-e glass plank glazing reduces heat gain inside the buildings while providing excellent daylighting to reduce electricity usage for artificial lighting.

Perforated stainless steel screens shade building walls and glass to reduce solar heat gain while providing daylight.

Sophisticated lighting controls automatically dim interior lights according to the amount of daylight available.

Water consumption is 36 percent less than comparable facilities through the use of waterless urinals and low-flow showerheads and faucets.

Building materials contain 21 percent overall recycled content, earning an extra LEED point for exemplary performance.

59 percent of all wood in the building or used in its construction comes from sources certified as responsibly-managed forests.

78 percent of waste from construction was diverted from landfills to be recycled: wood waste was chipped and reused for other products, was composted or burned as energy-generating biomass; concrete waste was used locally as road base and metal recycled.