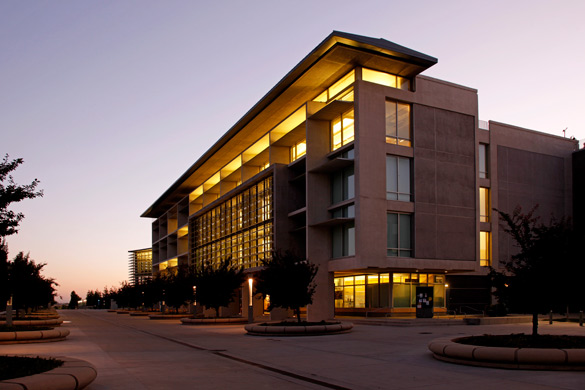 Leadership in Energy and Environmental Design (LEED) is a third-party verification system developed by the U.S. Green Building Council. It ensures that a building's design and construction use strategies aimed to improve energy savings, water efficiency, emission reduction, improved indoor environmental quality and stewardship of resources. 
All of UC Merced's buildings are LEED certified with the overwhelming majority certified Gold. As of 2009 LEED Gold is the campus minimum for new projects. 
While LEED is just one of many tools to measure energy efficiency, UC Merced uses it to foster innovation and best practices for design and construction. 
LEED Platinum Buildings
Sciences and Engineering 2 (certification pending)
Recreation Center North (certified platinum)
Student Services Building (certified platinum)
Half Dome Residences (certification pending)
Classroom Office Building 2 (under construction)
Dining expansion (certified platinum)
Social Sciences and Management Building (certified platinum)
LEED Gold Buildings
Classroom Office Building (Certified Gold)
Central Plant (Certified Gold)
Kolligian Library (Certified Gold)
Science and Engineering Building 1 (Certified Gold)
Sierra Terraces (Certified Gold)
Recreation and Wellness Center (Certified Gold)
Early Childhood and Education Center (Certified Gold)
Housing 3: The Summits (Certification Pending)
Logistical Support/Safety Facility (Certified Gold)
LEED Silver Buildings
Valley Terraces (Certified Silver)
Contact Information
Mark Maxwell
Assistant Director of Construction & Sustainability
T: (209) 228-4465v