Valley Terraces Student Residences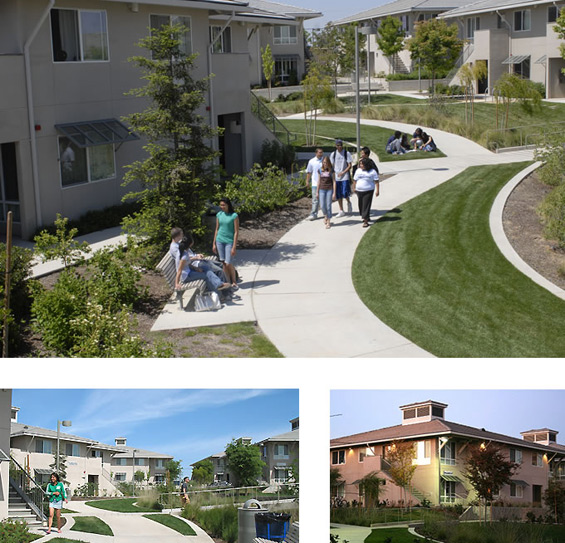 Valley Terraces opened for UC Merced's first students in Fall 2005, with housing for approximately 600 in nine two-story buildings that house apartment-style suites. Each suite includes a common living room, double bedrooms and shared restrooms for four to six students. 
The complex also includes the Terrace Center with recreational, meeting and office space, and the Yablokoff-Wallace Dining Center, which seats approximately 540 people.  The complex (formerly called Garden Suites and Lakeview Dining) was awarded LEED Silver Certification in July 2007.  
Project Details
Size: 149,170 square feet
Construction Cost: $24 million
Completion Date: August 2005
Awards: LEED-NC Silver
Campus Architect: Jim Smith
Project Director: Catherine Kniazewycz
Hallmark Project Manager: Fran Telechea
Campus LEED Coordinators: Cynthia Hughes and Mark Maxwell
Architect & Engineers: The Taylor Group Architects & Teter Consultants, LLP
Contractor: Bernard Brothers
LEED Consultant: CTG Energetics
Project Highlights  
Potable water consumption was reduced by more than 50 percent compared to similar facilities through a combination of strategies, including drought-tolerant landscaping with efficiently controlled irrigation; low-flow faucets and showerheads; and waterless urinals in the public restrooms. 

Bicycle parking is provided in numerous areas throughout the complex. Showers for bike riders are provided in the Terrace Center and Yablokoff-Wallace Dining Center. 

The heating, ventilating and air conditioning (HVAC) system and the electrical and lighting systems were commissioned by a third-party team of highly experienced engineers. They established a commissioning plan to verify that the systems perform efficiently as designed, ensuring minimized energy use as well as optimizing occupant comfort and productivity. 

91 percent of construction waste was recycled instead of being sent to the local landfill. 

48 percent of building materials for the Valley Terraces complex were manufactured regionally, reducing transportation carbon emissions and earning an extra LEED point for exemplary performance. 

Building materials with low volatile organic compound (VOC) content were used throughout, protecting occupants from noxious airborne fumes and odors. 

The concrete slabs in the building contain 40 percent fly ash in place of cement, which is requires more energy to produce. Fly ash is a recycled industrial byproduct.