Science and Engineering 2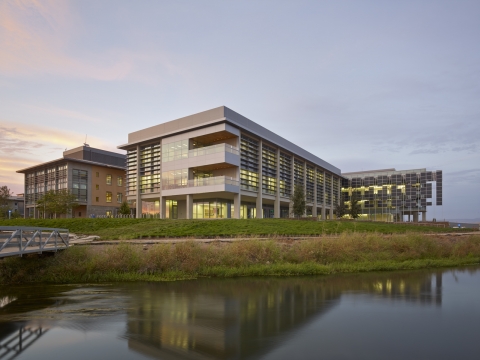 Science and Engineering 2 is a 102,000-square-foot facility overlooking the next phase of campus development. It will provide research and instructional labs and core facilities. Architectural features include several significant outdoor spaces, such as a pedestrian plaza; a solar-panel shaded promontory perched above the canal that can serve as an event venue; and a porch adjacent to the engineering labs for outdoor learning opportunities. 
In addition to offices and labs on the upper levels, breakout rooms with adjacent balconies will provide collaboration space featuring sweeping vistas of the undeveloped landscape and future campus expansion. The building ahcieved it's goal as LEED Platinum certification. 
Project Details
Size: 102,000 Square Feet
Cost: $88 million 
Campus Architect: Thomas Lollini, FAIA
Project Manager: Wenbo Yuan
Architect: SmithGroup
Construction Manager: McCarthy 
Landscape Architect: Cliff Lowe Associates
Estimated Completion Date: August 2014
Awards: LEED Platinum