Student Activities and Athletics Center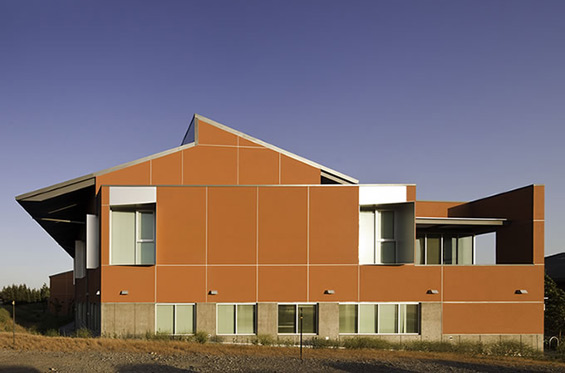 The Student Services and Athletics Center (formerly Recreation Center North) is sited adjacent to the Joseph E. Gallo Recreation Center. Located on a small site along Ranchers Road, the building adds approximately 19,000 gross square feet of activity space, offices with the potential for a future student wilderness center. The certification for the building is LEED Platinum.
Located on a transitional site between the Lake View Residential Neighborhood and the North Campus, the building strengthens a critical hub of student life and activity.  In design, full height glass walls connect the ground floor recreation space to an open plaza, thus creating an inviting indoor-outdoor connection.   The use of plaster, concrete and metal complements the existing Gallo Recreation Center, and the shed-like form of the building evokes simple but appreciated agricultural buildings seen throughout the San Joaquin Valley. 
Project Details
Construction Cost: $10 million
Completion Date: 2012
Awards: LEED Platinum
Campus Architect: Thomas E. Lollini, FAIA
Project Director: Neil Edwards
Design/Build Team: McCarthy Construction and WRNS Studio