The Summits: Half Dome Student Residences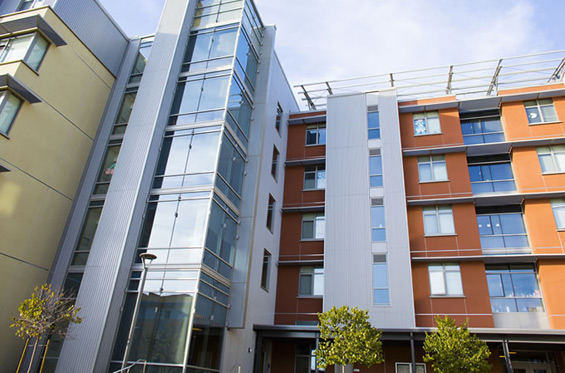 Located to the north of Cathedral and Tenaya Halls, Half Dome acts as a front door to Ranchers Road and provides unobstructed views of Lake Yosemite and the Sierra Nevada.  LEED Platinum is the design target. 
The 364-bed residence hall stands five stories tall and encloses the edges of UC Merced's first housing courtyard.  Similar to The Summits: Cathedral and Tenaya Halls, an average of five bedrooms are nestled near a common bathroom.  Study rooms, lounge spaces, computer terminals, laundry, and a kitchen are available within the hall for residents to use. Ground floor public spaces have been programmed to energize the breezeways connected to the pedestrian circulation grid.
Project Details
Campus Architect: Thomas E. Lollini, FAIA  
Project Manager: Brad Verma
Architect: EHDD
Contractor: Prowest
Completion Date: August 2013
Click below to watch a time-lapse video of Half Dome being built